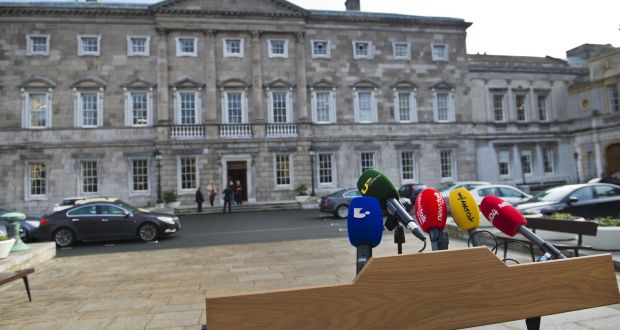 The lack of transparency over portions of salaries gifted back to the State by politicians and civil servants has been criticised by a member of the Dáil's spending watchdog.
Fianna Fáil TD Paul McAuliffe raised the issue with Department of Public Expenditure and Reform (DPER) secretary general David Moloney saying he was "aghast" that the State cannot confirm individual sums gifted back to the exchequer.
Mr Moloney told the Public Accounts Committee (PAC) that such information is not released as gifting is a tax matter and "the legislative provisions around the confidentiality of tax matters are quite strong".
In recent years numerous politicians have waived portions of their salary like pay increases but the sums are not confirmed publicly by the State.
The issue also arose when Department of Health secretary general Robert Watt waived €81,000 of his initial €292,000 salary – the increase he got when he was appointed to the role.
He said in April 2021 that he would waive the sum "until the economy begins to recover and unemployment falls".
Last December Mr Watt refused to tell the PAC if he was still waiving the €81,000 saying it was not the matter he was before TDs to discuss.
In January it was confirmed that he was taking the full salary which at that point stood at €294,920, – including a civil service pay increase that kicked in last October.
The Department of Health did not say when Mr Watt stopped waiving the increase.
Mr Watt is the former secretary general of DPER.
In his PAC contribution on Thursday, Mr McAuliffe did not name Mr Watt directly but he referred to Mr Moloney's "predecessor" and said he wasn't clear on the pay reduction taken by him.
Mr McAuliffe said the issue was broader than one individual and it was relevant to both politicians and public servants that gift money back to the State.
He argued that this amounted to "using public money to court public opinion".
Mr McAuliffe said: "I strongly feel though if somebody says they are gifting an amount of money to the State, the state should be able to confirm whether they received that money or not" and he is "aghast" this cannot be done.
He also said: "I just think it's a huge risk to standards in public office in Ireland when somebody can suggest that they gift money and the state cannot confirm that."
Mr McAuliffe said: "Can I suggest that a policy is drawn up in this matter because it shouldn't fall to one individual case – that's not fair on that individual – or that department.
"There should be a policy about how public servants gift money to the state and the accountability structure for that."
Mr Moloney said that DPER has: "undertaken to continue to look at this issue… so we can do that".
The Department of Health said it "does not comment on the personal salary details of individual civil servants".