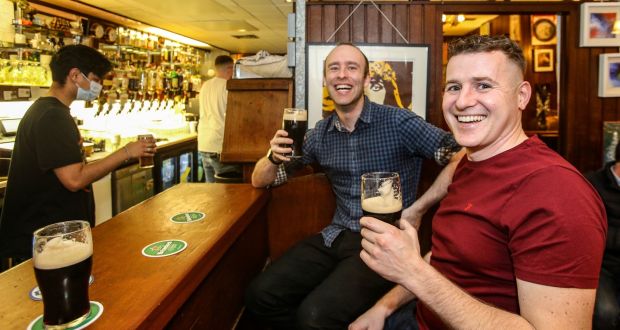 Families who lost loved ones to Covid-19 have said it is "time to go back to normal" and they have "a sense of hope" now that almost all pandemic restrictions have been lifted.
Patricia Kennedy's mother, Delia (94), died on April 24th, 2020 at Clontarf hospital in Dublin from the disease and a small funeral was held at Mount Jerome crematorium.
She was originally from Rossmore, Co Tipperary and a former principal at St Mary's National School in Fairview.
Ms Kennedy said she and her family hope to get "closure" as they will be able to bury their mother's ashes in Co Tipperary when one of her sisters returns from Australia.
"My sister lives in Sydney and she hasn't been able to travel. She couldn't travel for the funeral and it was my mother's wish to be buried in Tipperary," Ms Kennedy said.
"It was my sister's wish for us to wait and not do that until she came. The reopening would give us a sense of hope in that she can travel in July, we're hoping, and that we will be able to bury our mother's ashes.
"On a rather sad note, my other sister has since passed away, she had very sudden cancer so she did not get that closure."
A lot of fear'
Ms Kennedy said she and her family felt much sadness that her mother "died alone" in hospital.
"She did die in excellent care but there was a lot of fear at the time, there was a sense of not even the hospitals at the time not really knowing the correct thing to do.It was a time of great fear for us," she said.
Ms Kennedy added that she believed it was time to move on and would be "very guided" by public health officials' advice.
"They don't have a vested interest, they have the interest of the public at heart. They don't have a commercial or a political slant…I would respect that if they're saying that it's time to move on, well then I would respect that," she said.
Bernadette Carley lost her father Stephen Byrne (93) to Covid-19 on April 19th, 2020. Her mother, Maura, could not attend the funeral as she was recovering from the disease in hospital at the time. Mrs Byrne subsequently died in November aged 96.
Ms Carley said everyone was "tired and weary" due to the effects of the pandemic, adding that "it's time to go back to normal".
"We do need to move on. I hope all the restrictions for nursing home visits are eased up, I hope they will open them up if it's safe to do so," she said.
"The no visiting has been hard on people. There's loads of people with loved ones in nursing homes who have deteriorated because of the lack of interaction."
'Never really recovered'
Ms Carley added that her mother "never really recovered" from Covid-19 and spent her final weeks in a nursing home.
"In February 2020, Mam was living independently and driving. She never recovered after it, she was never back to her strength, everything seemed to knock her."
She said she and her family are looking forward to a planned Day of Remembrance in March as there were only 10 people allowed at her father's funeral.
"I think it's a great idea and a great way to remember people, particularly those who didn't get a proper funeral..hopefully this is the light returning."