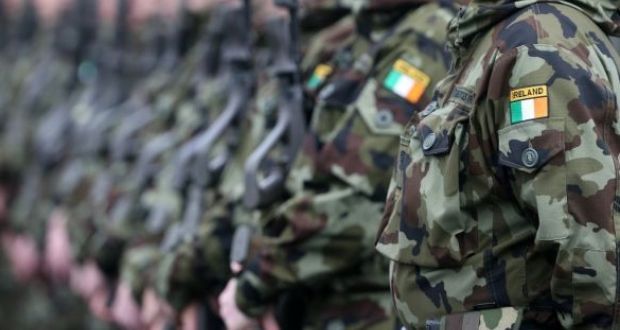 Dozens of soldiers attended a social event at the Defence Forces' Covid Taskforce headquarters at a time when pandemic restrictions limited outdoor gatherings to 15 people.
Minister for Defence Simon Coveney has ordered an external review of the matter, which will be undertaken by a senior counsel, his department said.
The outdoor event took place in front of the joint taskforce's base in Defence Forces headquarters in McKee Barracks, Dublin on June 25th, 2020, when strict Covid regulations applied to most areas of life in Ireland.
About 40 Defence Forces personnel, including officers, were in attendance at the event and consuming alcohol, according to military sources.
The event, which was intended as a morale booster, was held in the green area beside the gym where the taskforce, known as Operation Fortitude, was based. An email was sent around McKee Barracks inviting other military personnel to attend.
The barbeque was held in the late afternoon with people continuing to gather into the evening. It was attended by a mixture of taskforce staff and barracks personnel assigned to other roles. It is understood the alcohol was brought in from outside the base.
Investigation
During the evening an officer allegedly tried to grope a female subordinate's breast after he became extremely drunk. The allegation, which was reported last week in The Irish Times, is currently under investigation by the Military Police ahead of a potential court martial.
A Military Police investigation into the event found the rules around consuming alcohol on base were broken during what it called a "late lunch" which occurred between 2.30pm and 3.30pm but that there was no breach of Covid protocols. It said personnel filtered in and out so that there were no more than 15 people present at any one time.
However, multiple sources have said people were drinking alcohol well into the evening and that there were about 40 people present at one point. At the time of the event, outdoor events were limited to 15 people and groups of up to six people could gather indoors. Pubs and restaurants remained closed.
A Department of Defence spokeswoman said Mr Coveney sought updates on the progression of the investigation on multiple occasions and received a final report from Defence Forces Chief of Staff Lieutenant General Sean Clancy on January 28th, 2022.
"The Chief of Staff advised that the appropriate sanctions had been applied following the investigations,"she said. "Given the length of time between the alleged incidents and the conclusion of the Military Investigations, Minister Coveney and the Chief of Staff have agreed on an external review of the matter."
Earlier, a Defence Forces spokeswoman said the military's investigation had concluded the event "was a programmed daily lunch for those working during normal working hours, which was held outdoors and in a manner compliant with Covid-19 protocols extant at that time."
She said the investigation found the serving of alcohol at the event was against the Defence Forces' alcohol policy. "As a result, a number of personnel have been the subject of a formal administrative appraisal, conducted and concluded by the Office of the Chief of Staff of the Defence Forces."