Despite being under construction for over a decade, the cash-guzzling Berlin-Brandenburg airport needs hundreds of millions of Euros in fresh funding to complete lingering building works, German media have revealed.
Senior executives of the Flughafen Berlin Brandenburg GmbH (FBB) corporation, which runs Berlin's airports, reportedly informed the supervisory board at the end of last year how much more money it would need to keep up with BER's construction, according to Bild.
Read more
According to a newspapaer, the airport's construction costs and lost revenues alone amounted to €25 million ($30 million) per month, meaning that some €750 million needs to be found until the planned opening set for October 2020. The newspaper article cited shareholder sources who said the BER could raise a maximum of €400 million through loans.
The rest needs to be borrowed from alternative sources, but the shareholders – the states of Berlin and Brandenburg, and also the German government – are all at odds on how to raise the rest of the sum.
Tagesspiegel quoted another figure, saying €900 million is needed to keep operations going. Otherwise – based on the newspaper's own estimates of open-source data – the lack of adequate funding may result in a construction freeze.
The revelation is probably bad news for passengers and investors eager to see the airport starting operations with the initial opening dating back to 2011.
Earlier, BER senior executive Engelbert Luetke Daldrup announced a so-called "soft launch" of Berlin's never-ending airport construction. Referred to as "BER Lite," the plan would see the airport employ the two side wings and a temporary "extension" while the main terminal is yet to be completed.
Read more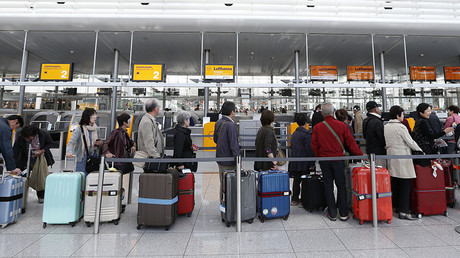 The "extension," however, called "Terminal 1E," would not be that fancy as the unfinished main terminal, designed by renowned architect Meinhard von Gerkan. Contructed from "industrial prefab," it will effectively be a large metal box to accommodate passengers, according to Spiegel.
The latest "promises" by the operating company said the air hub will open its doors for the passengers in October 2020.
Originally advertised as a cost-efficient, ultra-modern airline hub that would replace two overloaded airports – Tegel and Schoenefeld – BER has become one of the country's longest-running construction projects and a major blow to Germany's national prestige.
Construction on the airport began in 2006 and was slated to open in late 2011. Now more than six years behind schedule, the airport's original budget had already "swallowed" some €2.8 billion, according to Tagesspiegel.
[contf] [contfnew]
[contfnewc] [contfnewc]