Scotland has a proud history of creating fine ales and to mark these, VisitScotland has brewed up its very first craft beer map.
It's believed that beer has been brewed in Scotland for more than 5000 years and with more than 115 breweries, stretching from the Valhalla Brewery on Unst in Shetland to Portpatrick Brewery near Stranraer, Scotland is in the midst of a craft beer revolution.
Scotland's Craft Beer Map will allow beer lovers to plot their very own ale adventures as they work their way around the country discovering some of the finest craft brews.
The new map currently holds details of more than 70 producers, with more expected to be added in future. Virtual visitors can explore beers by region, find their favourite brands and embark on tours and tastings.
Steve Duncan, VisitScotland marketing manager, said: 'Beer is pretty big business in Scotland. With more than 115 breweries operating across the country, the variety and quality of beer and ale being produced and served in Scotland's bars and pubs and available in our shops and supermarkets is greater than ever.
VisitScotland's Craft Ale Map
'This new interactive map, which can be easily updated, has been created to make it easy for visitors to include a brewery tour as part of a holiday or short break in Scotland as well as recognising the growing interest in Scotland's craft beer sector.
'With Burns Night on the horizon, this is an ideal time to put Scotland's breweries on the map and inspire visitors to include a visit to a brewery in their 2018 travel plans.'
Caroline Wengel, the Brewers Association of Scotland's (TBAS) business development manager, said: 'We are delighted to be working with VisitScotland to help showcase Scotland's diverse brewing industry. The Scottish food and drink story is a real success and the beer revolution is at the heart of it. We know that visitors to our country love to eat and drink locally made produce and this new interactive map will help tourists discover breweries to visit and beers to try during their trip.'
No matter where you are in Scotland, you're never far from a good local craft beer.
BrewDog
Probably one of Scotland's best known ale exports, BrewDog is the big dog when it comes to beer tasting experiences. It has held the title of World's Strongest Beer three times, most recently with a 55% beer packaged in taxidermy roadkill. Their brewery in Ellon, Aberdeenshire is their global headquarters and it's here you can enjoy a 90 minute interactive tour of their epic new Brewhouse, as well as a tour of their new LoneWolf Distillery. After the tour, visitors can enjoy the brewery taproom DogTap, for more beers and food.
Born in the Borders
The only brewery in Scotland where you can go grass sledging and the only one to have created a giant crop circle pint out of a field of barley, Born in the Borders is a multi-award winning farm-based microbrewery located near Jedburgh in the Scottish Borders. Established in 2011, the brewery creates real ale using barley grown in the fields around it. Visitors can take self-guided brewery tours, eat at the onsite restaurant and visit the farm shop. Guided tours are available by appointment.
Brewdog has quickly established itself as one of Scotland's best-known breweries
Broughton Brewery
Located in the Scottish Borders just off the A701, this is Scotland's original, independent brewery where they have been brewing delicious beers authentically since 1979. All of the beers are hand-crafted using traditional open fermentation, and a malt mill dating back to the 1960s. Their award-winning lagers, ales, stouts and speciality beers include Hopopotamus IPA, Old Jock Ale, Greenmantle and as the brewery is only two miles from his grave, Merlin's Ale.
Cairngorm Brewery
Situated in the village of Aviemore within the Cairngorms National Park, Cairngorm Brewery was established in 2001. Keen to keep traditional recipes alive, as well as brewing new and interesting styles, the brewery has gained many awards and accolades for their beers. This 4 star visitor attraction is open all year round while the brewery shop offers tours and tastings.
Colonsay Brewery
For a small island, Colonsay is a big player in the craft alcohol market creating both beers and gin. The pace of life on Colonsay is slow, it's like stepping back in time – nobody is in a hurry. And that goes for Colonsay Brewery's beers which are slow-brewed to deliver maximum flavour and refreshment. They source the very best natural Scottish ingredients, including pure Hebridean water, to make three core beers – IPA, 80/- and Pig's Paradise Blonde.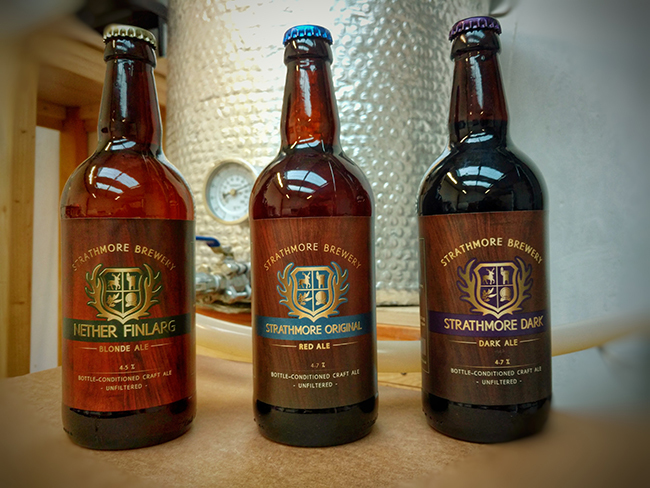 Strathmore Ale is an established Scottish brewery
Cross Borders Brewing Company Ltd
Brewing 'braw' beer since 2016, Cross Borders produce a range of multi-award-winning craft beers in cask, keg and can. Widely distributed across Scotland and North East England, you'll find their brews in many of the finest pubs, bars and independent retailers. They use only the best ingredients, experimenting with new styles and re-inventing traditional beers with a contemporary twist. And they do all of this with a sense of adventure and excitement, always seeking to cross new borders in beer. From early 2018, visitors will be able to experience a new range of tours and tastings sessions.
Drygate Brewery Co
Nestled in the historic heart of Glasgow, Drygate is the UK's first experiential microbrewery, creating fresh and modern beer under the iconic Seven Peaks of 85 Drygate. It is the intention of this Brewer to collaborate and cultivate links with their community, inviting all those with open minds to embark on a journey of brewing and discovery.
Fyne Ales
Fyne Ales is an authentic Scottish farmhouse brewery that has been creating award-winning beers since 2001. Based in the stunning surroundings of Glen Fyne at the head of Scotland's longest sea loch, Fyne Ales Brewery Tap & Shop was named 'Beer Destination of the Year' at the 2017 Scottish Beer Awards.
Laig Bay Brewing Company
The beautiful small Isle of Eigg, off the West Highland coast, is only 12 square miles in size and is arguably the smallest island in the world with a brewery. In 2017 the island community of Eigg celebrated two decades as a self-sustaining island. Laig Bay Brewing Company brews small-batch artisan beer steeped in its wild locale. Its remote location means visits must be arranged by appointment.
To explore Scotland's Craft Beer Map and learn more about Scottish beer click HERE.
[contf] [contfnew]
[contfnewc] [contfnewc]