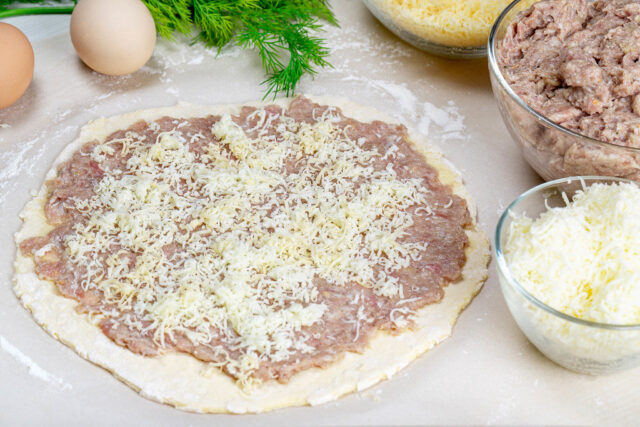 Hawawshi is popular street food in Egypt, consisting of a spicy meat mixture stuffed inside a pita or Arabic bread and baked to crispy perfection. The dish is loved for its delicious flavors and crispy texture, making it a favorite among locals and tourists alike. The filling is a flavorful combination of minced beef or lamb, onions, garlic, tomatoes, and green peppers, seasoned with tomato paste and harissa or red pepper flakes for a spicy kick. The bread is crispy and golden brown, providing the perfect contrast to the soft and savory meat filling.
Ingredients:
500 grams ground beef or lamb
1 large onion, finely chopped
2-3 cloves garlic, minced
1 large tomato, finely chopped
1 green pepper, finely chopped
1 tablespoon tomato paste
1 tablespoon harissa paste or red pepper flakes (optional)
Salt and pepper, to taste
Arabic bread or pita bread, sliced in half
Butter or olive oil, for brushing
Preparing the Filling
To make hawawshi, start by preparing the filling. In a large mixing bowl, combine the minced beef or lamb with the chopped onion, minced garlic, tomato, and green pepper. Mix well until all ingredients are evenly combined. Add the tomato paste and harissa paste or red pepper flakes (if using), and mix again until the filling is fully coated with the tomato paste and spices. Season the filling with salt and pepper, according to your taste preferences.
After preparing the filling, take one slice of Arabic bread or pita bread and brush it with butter or olive oil on both sides. Spoon a generous amount of the meat mixture on top of the bread, spreading it out evenly. Place the other half of the bread on top of the meat mixture, and press down gently to seal the edges. Repeat this process with the remaining bread slices and meat mixture until you have made as many hawawshi as you desire.
Baking the Hawawshi
Once the hawawshi are assembled, bake them in a preheated oven to 180°C (350°F). Place the hawawshi on a baking sheet and brush the top with butter or olive oil. Bake the hawawshi for 15-20 minutes, or until the bread is crispy and golden brown.
Remove the hawawshi from the oven and let them cool for a few minutes before slicing them into wedges or squares. Serve the hawawshi hot with a side of tahini sauce, cucumber and tomato salad, or pickled vegetables for a complete and delicious meal.