The widower of a woman who was fatally struck by a cyclist has urged the Government to make changing cycling laws "a priority" after new figures revealed a rise in convictions under 19th century legislation.
Matthew Briggs said the offence of causing bodily harm by wanton or furious driving was "hopelessly out of date" after it emerged the number of convictions under the 1861 law doubled in 2016.
Charlie Alliston was convicted of the crime and sentenced to 18 months in a youth institution for crashing into Mr Briggs' wife Kim on an Olympic-style bike with no front brakes in February 2016.
Mr Briggs said he hoped a Government review would be completed in the next few weeks as he called for the introduction of a new offence of causing death or injury by dangerous or careless cycling.
He told Sky News: "I maintain that the law is hopelessly out of date.
"A week after Kim died I received a call from the police to say there was an issue with the bike and they were considering bringing charges but they didn't know which charges they could bring because these laws weren't there.
"We then had to wait 18 months for the case to come to trial. You're already on a roller-coaster of emotion. I have two young kids who had lost their mum. I'd lost my wife. This just adds to it.
"I don't blame the police at all for this but the police had to go back to 1861 to scrabble around in a box of old laws, when it's very, very clear this is just an omission and we need the law to catch up."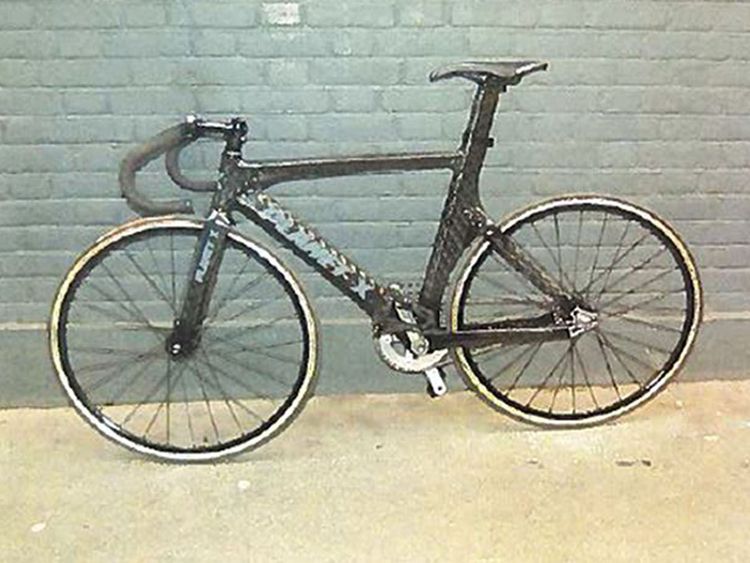 Ministry of Justice figures, obtained by Sky News, revealed there were eight convictions for causing bodily harm by wanton or furious driving in 2016 – up from four in 2015 and three in 2014.
The MoJ refused to reveal the number of convictions in 2017, saying they would be released in May.
Dangerous cycling convictions rose to 26 in 2016, compared with 23 in 2015 and 24 in 2014.
There were also 63 convictions for careless or inconsiderate cycling, compared with 85 in 2015 and 96 in 2014.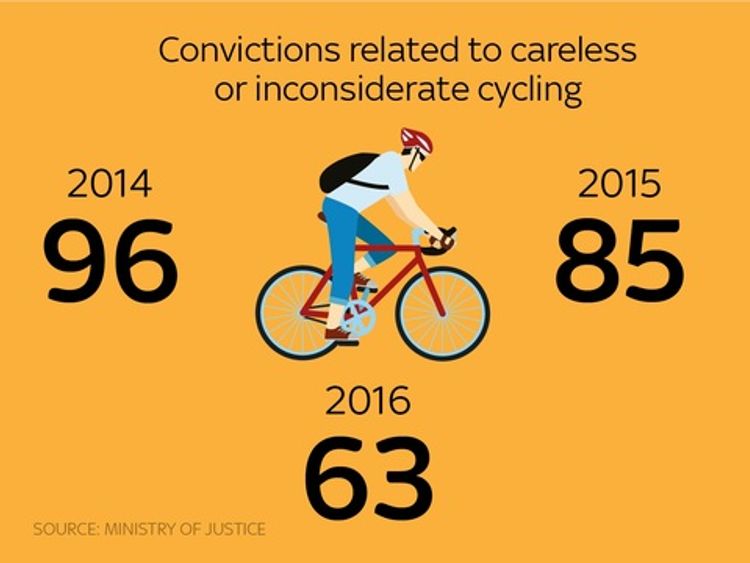 Mr Briggs said he found there was "tremendous support" for bringing cycling laws
"I haven't come across any opposition to what I'm trying to do," he said.
"There are some cycling groups that don't think it's a priority and I respect that argument. For me, it's a priority."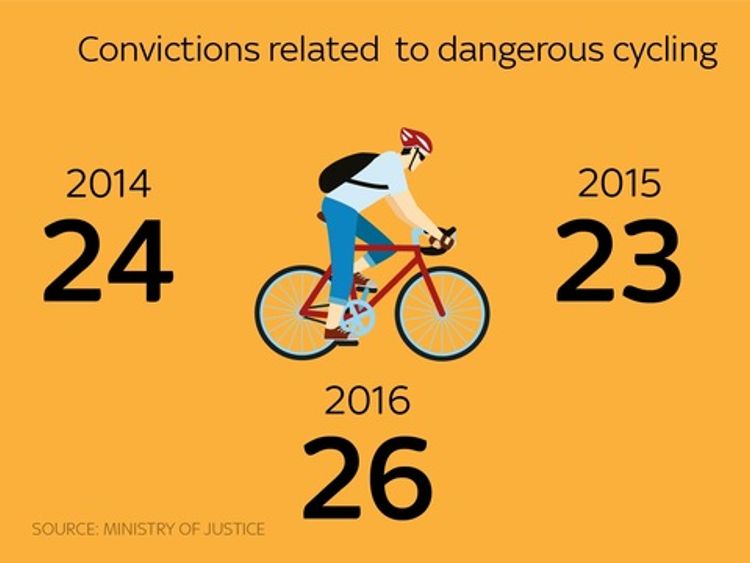 Mr Briggs said he had spoken to the families of Mary Evans and Rhiannon Bennett, who were both knocked over and killed by cyclists.
"The families go through the same tragedy but they also talk of the same confusion and same sense of being in limbo because there's no adequate law to charge people with," he said.
"If I get achieve something positive out of this, then I will have done a good thing."
More from UK
The Government has said it will conduct an urgent review into whether cyclists who put lives at risk should be subject to laws equivalent to those applied to drivers.
Ministers will take independent legal advice on the introduction of a new offence for cyclists and hopes to reach a decision early this year
[contf]
[contfnew]

[contfnewc]
[contfnewc]