Iran's supreme leader has accused the country's enemies of stirring days of protests that have claimed at least 22 lives.
Ayatollah Ali Khamenei was speaking for the first time since clashes between protesters and security forces broke out last Thursday.
Nine people, including a child, died overnight in violence in central Iran, state media say.
The protests are the largest since the disputed 2009 presidential election.
"In recent days, enemies of Iran used different tools including cash, weapons, politics and intelligence services to create troubles for the Islamic Republic," Iran's supreme leader was quoted as saying in a post on his official website.
Skip Twitter post by @khamenei_ir
The dignity, security, and progress of the Iranian nation is owed to the self-sacrifice of the martyrs. What prevents enemies from exerting their atrocities is the spirit of courage, sacrifice, and faith within the nation.

— Khamenei.ir (@khamenei_ir) January 2, 2018
End of Twitter post by @khamenei_ir
He said he would address the nation about the recent events "when the time was right".
The protests began last Thursday in the city of Mashhad, initially against price rises and corruption, but have since spread amid wider anti-government sentiment.
Some 450 people have been arrested in Tehran Province in recent days, Tehran Province's deputy governor-general is quoted as saying.
"About 200 people were arrested on Saturday, 150 on Sunday and about 100 on Monday," Ali Asghar Naserbakht said.
President Hassan Rouhani earlier said protests were an "opportunity, not a threat", but vowed to crack down on "lawbreakers".
The US has stepped up support for the protesters' "bold resistance".
The Green Movement in 2009 saw millions of protesters dispute the election victory of incumbent president Mahmoud Ahmadinejad. The protests were brutally suppressed, with at least 30 people killed and thousands arrested.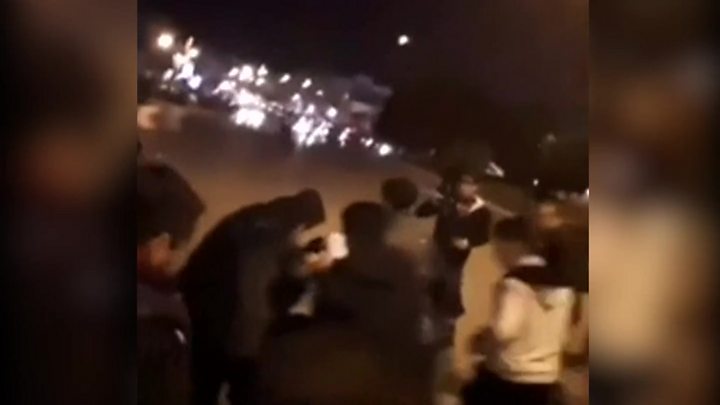 Where is the latest violence happening?
Six protesters died overnight in an apparent attempt to seize guns from a police station in the town of Qahderijan in the central province of Isfahan, state TV reported.
An 11-year-old boy and a 20-year-old man were also reported killed in the town of Khomeinishahr.
A member of Iran's Revolutionary Guards was fatally wounded in nearby Kahrizsang, state media added.
In an earlier incident, there were reports of shots being fired at police in Najafabad, near Isfahan, killing one officer and wounding three.
What has the international reaction been?
On Tuesday, Turkey expressed concern at the unrest spreading and warned against any escalation.
Earlier US President Donald Trump stepped his war of words with Iran's leaders, posting a tweet saying the "great Iranian people have been repressed for many years. They are hungry for food and freedom".
Skip Twitter post by @realDonaldTrump
Iran is failing at every level despite the terrible deal made with them by the Obama Administration. The great Iranian people have been repressed for many years. They are hungry for food & for freedom. Along with human rights, the wealth of Iran is being looted. TIME FOR CHANGE!

— Donald J. Trump (@realDonaldTrump) January 1, 2018
End of Twitter post by @realDonaldTrump
The EU has called on Iran to guarantee its citizens' right to peaceful protest, saying it had been in touch with Iranian authorities and was monitoring the situation.
On Tuesday, Iran's first Vice-President Eshaq Jahangiri – a key backer of reformist President Rouhani – tweeted that gradual reform within the framework of the law is the only way to improve the situation in the country.
"It is this path which generates hope and movement and involves everyone's votes and demands in creating the future," he posted in Farsi on Twitter.
Where will the protests lead?
By BBC Middle East editor Jeremy Bowen
The demonstrations started last week in Mashhad, Iran's second biggest city, and since then have spread.
To begin with they were about the economy, unemployment and inflation. Some protesters have asked why Iran is spending a lot of money on regional conflicts when people are suffering at home.
But quickly demonstrations moved on to politics, criticising leading figures in the Islamic Republic and some even calling for a return to the monarchy that was overthrown by revolution in 1979.
This is not a new revolution, but the protests are the biggest in Iran since the disputed presidential election in 2009. This time, though, it seems to be a movement without national leaders.
President Rouhani has tried to play it all down. Reformists and conservatives have been blaming each other and foreigners. But the protests show how discontented Iranians are with their lives, increasing poverty, and repression by the regime.
[contf] [contfnew]
[contfnewc] [contfnewc]