The fire ripped through an eight-story building in the city of Jecheon in North Chungcheong province just before 4 p.m. local time Thursday (3 a.m. ET), according to an official from the North Chungcheong Fire Service. Twenty bodies, including 18 women and two men, were found in the public bath on the second floor of the building, a Jecheon city spokesman said Friday. The others were found on the higher floors of the building, which included a gym and restaurants. The dead include 23 women and six men, CNN affiliate KBS reported. All but one — a male victim — have been identified, the Jecheon city spokesman said.South Korean President Moon Jae-in visited the site of the blaze Friday, a spokesman for the presidential Blue House told CNN, as the Jecheon mayor promised a thorough investigation.The city would also provide financial support for the funerals of those killed, and medical fees for another 29 people who suffered minor injuries in the blaze, said Mayor Lee Keun-kyu.It's not clear how many people were in the building at the time the fire broke out, but some survivors escaped the flames by jumping from balconies onto inflatable mats assembled below. Around 20 were rescued from the rooftop of the eight-storey building, scaling ladders to climb aboard a helicopter.Dozens of firefighters fought the fire which took around two hours to bring under control. Their efforts were hindered by toxic smoke, according to an official from the North Chungcheong Fire Service Headquarters.The fire is suspected to have started in a parked vehicle in the ground floor of the building and then spread to the whole structure, the official said. It is customary in South Korea that officials do not give their names.Authorities continue to investigate the incident, with police, fire services and the National Forensic Service examining the site Friday morning to determine the cause of the blaze, KBS reports.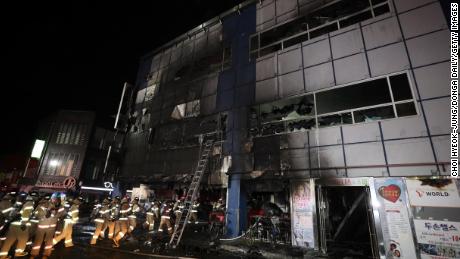 The Olympic torch relay, which was due to pass through Jecheon Friday, has been canceled in the wake of the fire, according to the Jecheon city website.The relay and accompanying celebrations were part of the build-up to the 2018 Winter Olympics, to be held in Pyeongchang starting February 9.Jecheon is about 170 kilometers southeast of South Korea's capital, Seoul.
Original Article
[contf] [contfnew]
[contfnewc] [contfnewc]
The post 29 killed in South Korea fire appeared first on News Wire Now.