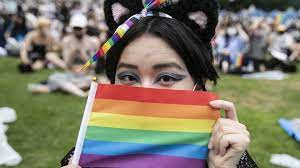 Officials in South Korea's southern Daegu city have tried to stop an annual LGBT pride festival from taking place, leading to clashes with the police.
Officers had to forcibly remove city workers to allow organisers to set up for Saturday's annual event.
Local businesses and several churches failed to get a court injunction to ban the festival earlier this week.
The Daegu Queer Culture Festival has been held in the city's central district since 2009.
Daegu's conservative Mayor Hong Joon-pyo supported the motion for an injunction, which sought to ban the festival over claims large numbers of people on the streets would restrict local businesses.
The court sided with the festival host earlier this week, saying that freedom of expression was as important as freedom of business.
The clashes began early on Saturday morning when hundreds of Daegu officials, led by the mayor, stopped trucks of festival organisers from entering the main venue in the Dongseongno district.
There were cheers from event organisers after police removed local government workers to ensure the safety of the "legitimate" event.
Hong Joon-pyo, who has run twice for president and was the former leader of the now defunct conservative Liberty Korea Party, is known for his anti-LGBT stance.
Read from: https://www.bbc.com/news/world-asia-65939702