"FC Barcelona and Liverpool FC have reached an agreement for the transfer of Philippe Coutinho,' said the Spanish club in a statement.Follow @cnnsport"The player will sign a contract for the remainder of the season and five more, and will have a buyout clause of 400 million euros ($481 million)."Coutinho's transfer between the two clubs is widely reported to be worth $170 million, which would make the 25-year-old the third most expensive player in the world behind fellow Brazilian Neymar and Frenchman Kylian Mbappe, who both play for Paris Saint-Germain.The French club paid a reported $263 million for the 25-year-old Neymar, while the 19-year-old Mbappe will cost PSG a reported $214 million at the end of his initial loan spell from Monaco.READ: The secret life of 'O Magico'READ: Salah named African Player of the Year
'Fantastic player'
Barcelona tried to sign Coutinho during the summer transfer window, but Liverpool refused to sell a player who has scored 54 goals in over 200 appearances for the Merseyside club and was a consistent creator of chances for other players.But Coutinho's desire to join Barcelona and the form of Egyptian international Mo Salah, who has already scored 23 goals from just 29 games since moving to Liverpool from Roma, prompted a rethink by the English Premier League team."It is with great reluctance that we — as a team and club — prepare to say farewell to a good friend, a wonderful person and a fantastic player in Philippe Coutinho," Liverpool manager Jurgen Klopp told the club's website."It is no secret that Philippe has wanted this move to happen since July, when Barcelona first made their interest known."Philippe was insistent with me, the owners and even his teammates this was a move he was desperate to make happen."Despite that, we managed to keep the player here beyond the summer window, hoping that we would be able to persuade him to stay and be part of what we are looking to do."Coutinho, who joined Liverpool from Inter Milan in 2013, has scored seven league goals this season and also played a key role in helping Klopp's team qualify for the last 16 of the Champions League."I can tell the Liverpool supporters that we, as a club, have done everything within our means to convince Philippe that remaining part of LFC was as attractive as moving to Spain, but he is 100% certain his future — and that of his family — belongs at Barcelona," added Klopp.At Barcelona, Coutinho will link up with former Liverpool teammate Luis Suarez. During the 2013/2014 season the two South Americans combined to lethal effect, almost guiding Liverpool to their first league title in over two decades.
Family support
Coutinho's journey to Barcelona began in Rocha, in Rio de Janeiro's North Zone, in the shadow of the iconic Maracanã stadium.The Brazilian's modest home was sandwiched between Favela da Mangueira, one of the city's oldest shantytowns which creeps up the hillside, and small industrial warehouses.Importantly, it was also close to a concrete pitch, which is where he watched his older brothers Cristiano and Leandro challenge their friends, and where he would later conjure his magic."They were always with the ball like most children in the country, and of course, I wanted to be like them," Coutinho told CNN in an extensive interview in 2015.Except he was better, a whole lot better. From the age of six, the squares of stone used by the community became his haven and the streets turned into his playground.His diet was futsal — a variant of the game employed on smaller fields with a heavier ball and just five or six players per team. With space restricted and the need for skill and improvisation heightened, the diminutive Coutinho flourished.His family were always there witness to his expertise, but it was the grandmother of a friend who urged Jose Carlos to enrol his son into a football academy.There was no hesitation from Coutinho's father, and the gifted youngster joined a local boys team. A few months later, Brazlian team Vasco da Gama's coaches approached the architect at a tournament and encouraged him to get Coutinho to attend a trial with the club."I was crying and I didn't want to play because I was shy," he remembers of the open day. He held onto his dad in the stands while the other kids warmed up. "I was new to the group, everyone knew each other so I was feeling a little uncomfortable and embarrassed."After a short while and some motivation, I was fine. When I actually started to play, it was all normal and natural. I wasn't shy anymore, I was enjoying it."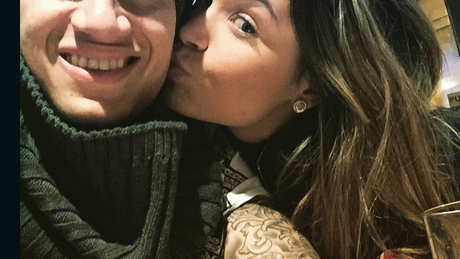 His parents, older brothers and his now wife Aine would follow him everywhere, watching every game.Their support fuelled Coutinho's ability and at 16, his big breakthrough arrived. Italian giants Inter Milan paid $7.7 million to secure the services of the teenager, who would continue to develop at Vasco and join them two years later.Again, his family proved pivotal. "They moved with me to help make the settling easier," explained Coutinho. "But it was hard for them. As they were old, it was difficult for them to learn the language or adapt to a new culture and ways of doing things like I could."Aine had to change her entire routine, my dad had to quit his job which was painful because he loves to be busy. My parents eventually moved back to Brazil, so since then it has been me and my wife, although they are always involved."If there is something that needs to be done on my behalf back home for example, my brothers take care of it for me. I share everything with my family; all my happiness and success is theirs."
Original Article
[contf] [contfnew]
[contfnewc] [contfnewc]