US Secretary of State Rex Tillerson says he has "never questioned" President Trump's mental health after the author of controversial book said his staff saw him as a "child".
Michael Wolff says Fire and Fury: Inside the Trump White House is based on about 200 interviews.
The book has now gone on sale early despite the president's attempts to block its publication.
Mr Trump says the book is "full of lies".
He said it was being pushed by the media and others to hurt him. He added: "They should try winning an election. Sad!"
Mr Tillerson – who reportedly called Mr Trump a "moron" earlier this year – told CNN: "I have no reason to question his mental fitness."
He said Mr Trump was "not typical of presidents of the past".
"I think that's well recognized. That's also though why the American people chose him," he said.
On Friday, Mr Trump refused to answer questions about the book as he departed for Camp David from the White House. Mr Trump will spend two days meeting top Republicans at the retreat to discuss his legislative priorities for the year ahead.
Wolff said that White House staff described the president as childlike because "he has the need for immediate gratification. It's all about him… This man does not read, does not listen. He's like a pinball just shooting off the sides."
Despite the storm over the book, the Trump administration has been pressing ahead with its agenda. On Thursday it:
Mr Tillerson added that he had a "developing relationship" with the president and denied speculation that he was set to quit the White House after a rumoured rift, saying he would serve for the whole of 2018.
"In terms of what I would do different, I'm going to build on my ability to communicate with the president better," he told CNN.
What does Wolff say about his research?
The president said he had not given Wolff access to the White House nor spoken to him for the book.
But Wolff responded: "What was I doing there if he didn't want me to be there? I absolutely spoke to the president… It was not off the record."
He said he had spent three hours with Mr Trump in total, both during the election campaign and after the inauguration.
Hitting back in a television interview at the White House attacks, he said the president had no credibility and that "100% of the people around him" question his fitness for office.
Skip Twitter post by @realDonaldTrump
I authorized Zero access to White House (actually turned him down many times) for author of phony book! I never spoke to him for book. Full of lies, misrepresentations and sources that don't exist. Look at this guy's past and watch what happens to him and Sloppy Steve!

— Donald J. Trump (@realDonaldTrump) January 5, 2018
End of Twitter post by @realDonaldTrump
Wolff said it was "extraordinary" that the president of the US would try to stop publication of his book, a move that "the CEO of a mid-sized company" would not attempt.
What is in the book?
The book cites former top aide Steve Bannon as describing a meeting at Trump Tower in New York between a Russian lawyer and Trump election campaign officials, including Mr Trump's son Donald Jr, as "treasonous".
Both Mr Trump Jr and his father deny that any collusion with Russians to win the election took place. However Mr Bannon is quoted in the book as saying: "They're going to crack Don Junior like an egg on national TV."
The meeting is being investigated by Special Counsel Robert Mueller as part of his inquiry into possible collusion between Trump campaign officials and Russians.
The book makes many other claims, including that:
The Trump team was shocked and horrified by his election win
His wife, Melania, was in tears of sadness on election night
Mr Trump was angry that A-list stars had snubbed his inauguration
The new president "found the White House to be vexing and even a little scary"
His daughter, Ivanka, had a plan with her husband, Jared Kushner, that she would be "the first woman president"
Ivanka Trump mocked her dad's "comb-over" hairstyle and "often described the mechanics behind it to friends"
However, the accuracy of some excerpts has been criticised and questioned in the US media.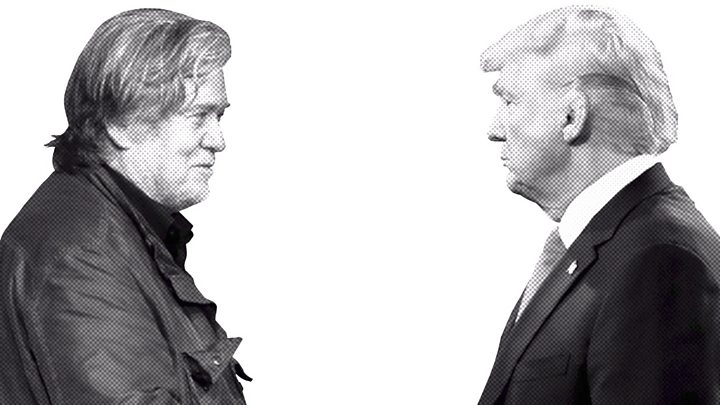 Still, even if only half of what the book contains is true, it paints a damning portrait of a paranoid president and a chaotic White House, BBC North America editor Jon Sopel says.
Will it actually hurt Trump?
Analysis: BBC North America reporter Anthony Zurcher
Donald Trump's supporters have seen many a media storm over the past few years, and somehow their man always emerges (relatively) unscathed. The book may be generating considerable heat among the chattering class, but there's little to indicate that its lasting impact will be much more than confirming long-held suspicions of Trump critics and re-enforcing the bunker mentality in the White House.
Outside Washington, in places where people don't devoutly follow every permutation of the presidential Twitter feed, the Trump administration is compiling a boast-worthy economic record.
Despite some doom-and-gloom predictions following the 2016 election, the stock market has soared. Unemployment remains low. Major corporations are making high-profile moves to at least temporarily boost their workers' paycheques. And the president can start pointing to his party's tax bill as a tangible reason why the economy is humming along.
If the current trajectory continues, Mr Trump and his fellow Republicans will be positioned to make the case to voters in the months and years ahead that despite all the drama – the often self-inflicted fire and fury – their agenda is to help Americans where it counts the most, in their pockets.
That's the kind of message that can win.
What will happen to Steve Bannon?
Mr Trump said Mr Bannon – who was sacked in August – had "lost his mind" after losing his White House position.
Reports suggest that more conservative factions in the Republican party have backed Mr Trump amid the fallout from the book.
Billionaire conservative donor Rebekah Mercer, who had backed Mr Bannon financially and invested in the right-wing Breitbart news website that he heads, cut ties with the former strategist, saying: "I support President Trump and the platform upon which he was elected."
Mr Trump tweeted in response: "The Mercer Family recently dumped the leaker known as Sloppy Steve Bannon. Smart!"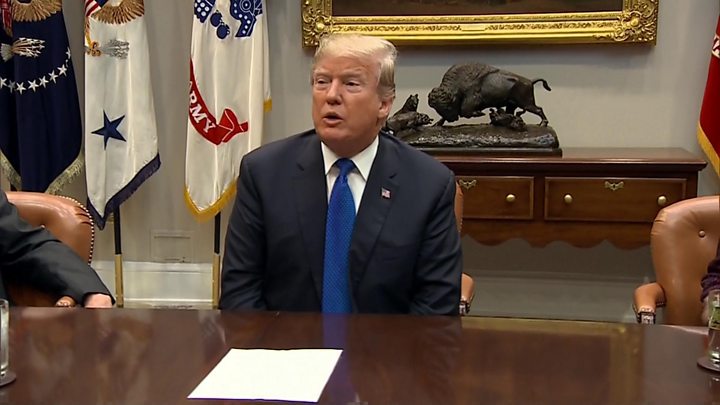 [contf] [contfnew]
[contfnewc] [contfnewc]