More countries could break away from the EU in a wave of populist revolts, says Tony Blair. The former UK PM has called on EU countries to "seize the moment" and to deal with underlying Muslim migration issues.
Blair told German newspaper Die Welt that the same migration concerns that sparked Brexit aren't issues faced solely by the UK, and other EU countries could face backlashes down the line.
"Let's be clear: the anxieties of the British people that led to Brexit are not confined to Britain," he said.
Read more
"With strong leadership we would seize the moment of Brexit also to deal with those underlying issues which are not only the preoccupation of the British people but are the preoccupation right across Europe. Because otherwise, this populism will get fueled."
Blair made a clear distinction between EU migration – a problem that he believes is only an issue in certain areas of the UK – and non-EU migration. He said tensions occur from non-EU migration "when people aren't sure the people coming are sharing our values" – particularly from majority-Muslim countries.
Blair believes this is already an issue in Holland, Denmark and Sweden.
At the end of December, Blair's think tank, the Institute for Global Change, released a report warning of a populist uprising in Europe as voters become frustrated with European immigration issues.
Last January, the former Labour leader poured a whopping £10 million of his funds into the Tony Blair Institute, another step in forwarding his anti-populist crusade.
Read more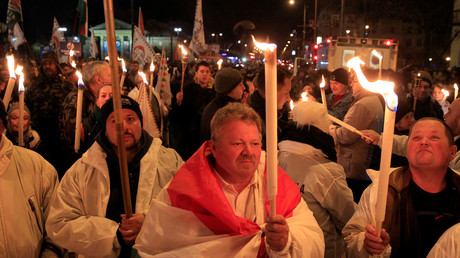 On Thursday, Blair took to his 'Institute for Global Change' website to hit out at serving UK Prime Minister Theresa May, calling her handling of Brexit negotiations "farcical" and accusing Labour of having a timid political approach to the issue.
Blair has also called for a second referendum, once the details of the Brexit agreement have been thrashed out, so the people of the United Kingdom can have a say on whether they still want to leave the EU or not.
"When we voted in 2016, we knew we were voting against our present membership of the European Union, but not what the future relationship with Europe would be," he said.
"Once we know the alternative, we should be entitled to think again, either through Parliament or an election or through a fresh referendum, which will, of course, not be a rerun of the first because it will involve this time a choice based on knowledge of the alternative to existing EU membership."
[contfnewc]
[contf]
[contfnew]

[contfnewc]
[contfnewc]