Freemasons in England are forced to be secretive because they are discriminated against, said leader David Staples. This week, Masons in the police were accused of covering up for fellow members and favoring them for promotion.
Staples, chief executive of the United Grand Lodge of England, wrote a letter to a number of UK national newspapers. According to The Guardian, he said: "We are quietly proud that throughout history, when people have suffered discrimination both in public and social life, Freemasonry has welcomed them into our lodges as equals. It is a shame that Freemasons are now quite openly discriminated against and that too many of our members, therefore, feel the need to keep their membership to themselves."
Read more
Suggestions that the Police Federation is being actively thwarted by an organized body of Freemasons – which is non-political, non-religious, values integrity and upholds the law – is "laughable," Staples added. "In 2001 and again in 2007 the European Court of Human Rights ruled that Freemasonry was not a secret or unlawful organization. There is absolutely no reason why police officers, or anyone from any other walk of life, should not be a Freemason, and we highlight our shared organizational values of integrity and service to the community."
Staples' comments come after the former chief of the Police Federation Steve White claimed reform in policing is being blocked by Freemasons, and the fraternal organization may undermine attempts to recruit women and those from minority communities. Speaking to the BBC and The Guardian, he also accused masonic police officers of giving preferential treatment to their brethren over more talented, non-Mason officers.
"There have been occasions when colleagues of mine have suspected that Freemasons have been an obstacle to reform. We need to make sure that people are making decisions for the right reasons and there is a need for future continuing cultural reform in the Fed, which should be reflective of the makeup of policing," White said.
Read more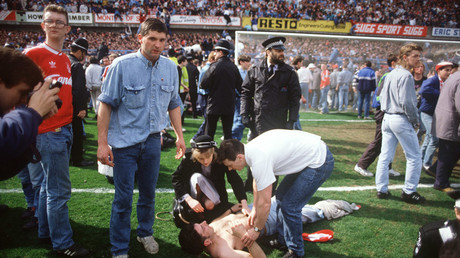 "It's about trust and confidence. There are people who feel that being a Freemason and a police officer is not necessarily a good idea. I find it odd that there are pockets of the organization where a significant number of representatives are Freemasons."
Staples claimed White had since backtracked on his remarks. "The articles show a complete and disappointing misrepresentation of Freemasonry. Furthermore, we understand, having spoken to the outgoing chairman of the Police Federation, that recent media coverage does not accurately reflect his views."
Freemasonry can be viewed as an international organization with an estimated 200,000 members worldwide. It is the oldest and largest non-political organization in the world, whose members call each other 'brothers' or 'brethren.' Sometimes confused or conflated with the Illuminati, Freemasons comprise a society that believes the universe has an architect, though Freemasonry is not considered a religion nor its lodges places of worship. It has been criticized for its secrecy and accused of serving the interests of its members over the those of the public.
[contf]
[contfnew]

[contfnewc]
[contfnewc]