A world-famous harpist has been accused of sexually assaulting a teenager.Danielle Perrett, who has in the past performed for Britain's royal family and for a string of PMs, faces the accusations alongside her church warden lover.
Perrett, 59, first met her alleged victim in 1984 after her partner, Richard Barton-Wood, had brought the teenager to one of her performances.
Read more
Perrett, whose past audiences include the Queen, the Duke of Edinburgh and four consecutive Prime Ministers, stands accused of eight counts of sexual assault on a minor, while Barton-Wood is accused of six offences of indecent assault, one of attempted buggery and one of attempted indecent assault.
Both defendants deny the charges.
Ipswich Crown Court on Wednesday heard that the relationship between the trio lasted for six months, between March and September, 1984.
A jury was told how Perrett, of Alpheton, Suffolk, had several sexual encounters with the then 14-year-old boy at a flat in London, where her partner was also present.
Prosecutor William Carter told a jury at Ipswich Crown Court: "[The alleged victim] was obviously too young to consent to what was happening.
"He described [Perrett] as kind and gentle and says he felt safe around her. Her actions, pleasant though they seemed to him at the time, were unacceptable."
Carter added: "It was through Richard Barton-Wood that [the alleged victim] met Danielle Perrett.
Read more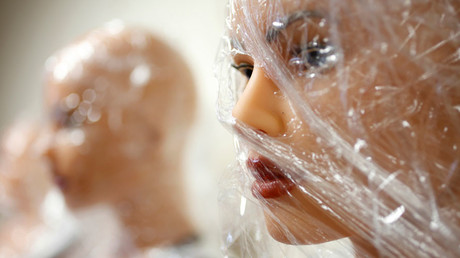 "[The alleged victim] remembers being taken to a hotel where they sat at a table, watching Danielle Perrett play the harp. The three of them also stayed together in a flat."
It was also alleged that Barton-Wood had got into bed with Perrett and the teenager to engage in the alleged sexual activity.
Carter said: "He recalls she smelled of roses. Afterwards, Richard Barton-Wood came into the room. He got into bed so [the alleged victim] was between them.
"In the morning, [the alleged victim] had a shower. He was joined by Danielle Perrett and she performed oral sex on him."
The prosecution cited another instance when Perrett is alleged to have abused the boy.
"The victim went to bed and after a while Danielle Perrett came into the bedroom," said Carter.
"She got undressed and cuddled up to him. They then had sex. The victim said he was attracted to her and the sex was nice as well."
Barton-Wood reportedly got to know the alleged victim while he was a substitute teacher at Claydon High School. He was in a relationship with Perrett during that same period.
The 68-year-old man is accused of abusing the boy on other occasions, including while camping and sailing. He also reportedly bought him cigarettes, alcohol, and smoked cannabis with him.
Carter said: "Such sexual activity was not confined to the boat. The final occasion was one where he had tied his trousers to prevent them being removed and woke to find Barton-Wood trying to pull them down."
The trial, expected to last two weeks with Judge Rupert Overbury presiding, continues on Thursday, when the alleged victim is expected to give evidence.
[contf]
[contfnew]

[contfnewc]
[contfnewc]