An Italian restaurant's chef has received death threats after posting comments on social media suggesting she had "spiked" a vegan customer's meal. An investigation has now been launched to assess the claims.
Laura Goodman, chef at the Carlini restaurant in Shifnal, Shropshire, came under fire on Saturday night after sending out a Facebook post saying a "pious, judgmental vegan has gone to bed still believing she's a vegan."
Read more
Just hours before sharing the post, she had written on another Facebook page called 'The Boring Group,' claiming she had "spiked a vegan a few hours ago." Furious commentators accused her of being "mean" and "disgusting."
One Facebook user said: "I hope you didn't do anything on purpose to make her meal non vegan, if so that is disgusting and so out of order, I would be furious with anybody that did that."
Goodman's partner Mike Gale, who co-owns the restaurant, said Goodman was venting out her frustration after spending "hours" on a "special" vegan menu for some customers who then ordered a different, non-vegan meal containing cheese.
"The comments were made when (Laura) was very tired and had a few drinks at the end of a 72-hour week – the busiest week of the year," he told the Mirror.
"It was a bad choice of words. It was a mistake. We would never feed any vegetarian or vegan meat."
Saying Goodman was "devastated" about the incident, he added: "This has all got out of hand. There was absolutely no meat in the dishes. We have received death threats and all sorts of vitriol thrown at us."
Read more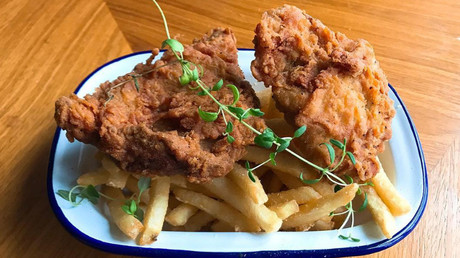 As a result of the adverse publicity the restaurant's rating on Google plummeted to a one-star.
A review of the restaurant posted on Google read: "Don't risk eating here. The chef boasts about giving unsuitable food to diners. If you have any allergies, or just want to know the chef is honest and cares about their dishes. Steer well clear."
A spokesperson for Carlini Italian restaurant told the Daily Mail: "We appreciate the outrage Laura's ill-judged comment on social media has caused and would like to apologize for what it insinuated.
"She had spent a lot of time designing a special vegan menu for a party, who then decided to choose something from the existing menu – one meal of which was a cheese-based pizza, which isn't vegan friendly.
"This is what she meant by the Facebook comment – in no way does this excuse the comment and we totally understand the anger it has subsequently caused."
They added all meals were prepared to their "usual high standards" and in accordance with the Food Standards Agency.
[contf]
[contfnew]

[contfnewc]
[contfnewc]