Some of the anti-government protests happening in Iranian cities have turned violent, footage appears to show.
Two demonstrators in Dorud in western Iran have sustained gunshot wounds, a video posted on social media and verified by BBC Persian shows.
Videos filmed elsewhere in the country show protesters setting fire to a police vehicles and there are reports of attacks on government buildings.
It is the biggest display of dissent since huge pro-reform rallies in 2009.
Demonstrators have ignored a warning by Iran's interior minister to avoid "illegal gatherings".
There are unconfirmed reports that the two protesters who were shot in Dorud have died.
In the town of Abhar in northern Iran, demonstrators have set fire to large banners bearing the picture of Iran's Supreme Leader Ayatollah Ali Khamenei.
Meanwhile in Arak in central Iran, protesters have reportedly set fire to the local headquarters of the pro-government Basij militia.
In the capital Tehran, large numbers of protesters are converging on Azadi square, BBC Persian reports, with many police and security forces appearing to have withdrawn.
In Mashhad, in the north-east, protesters burned a police motorcycle in a confrontation caught on video.
There are also numerous reports of people losing internet access on their mobile phones.
Earlier, protesters at Tehran University called for Ayatollah Khamenei to step down and there were clashes with police.
Thousands of pro-government demonstrators turned out earlier on Saturday for big rallies, organised in advance to mark the eighth anniversary of the suppression of the 2009 street protests.
'An eye-opening three days'
By BBC Persian correspondent Kasra Naji
Although small, the anti-government protests on Saturday took on a much greater importance than the government-sponsored rallies.
It's not every day that there are thousands of people voicing opposition to the government.
As night fell, reports were still coming of protests in at least nine cities. There have been clashes with the police in some places.
The common factor in all of them has been protesters' demand for an end to clerical rule in Iran.
Widespread discontent is not limited to complaints about rising prices or widespread unemployment.
It has been an eye-opening three days for the government, which has been careful not to provoke the protesters too much.
The current protests began in Mashhad on Thursday over living standards and rising food prices, and by Friday had spread to several major cities.
The Iranian authorities are blaming anti-revolutionaries and agents of foreign powers for the outbreak of protests.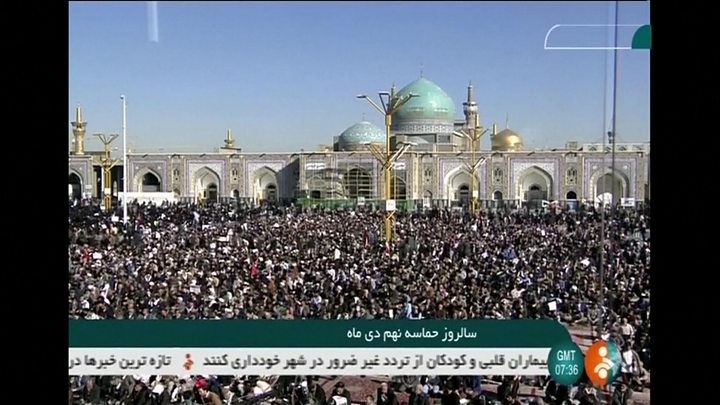 The CEO of popular mobile messaging app Telegram said an Iranian account had been suspended for calling for attacks on police, after a complaint by Iran's communications minister.
In the US, President Donald Trump tweeted: "Oppressive regimes cannot endure forever, and the day will come when the Iranian people will face a choice. The world is watching!"
Iran's foreign ministry called earlier comments from Mr Trump and other US officials "opportunistic and deceitful".
Overall, the numbers said to be taking part in demonstrations range from hundreds in some places to thousands in others – but demonstrations do not appear to be taking place on a massive scale. Information about them has mostly emerged through social media.
Slogans have been chanted against not just Mr Rouhani but Mr Khamenei, and clerical rule in general.
Demonstrators were reportedly heard on Friday yelling slogans like "The people are begging, the clerics act like God".
There is also anger at Iran's interventions abroad. In Mashhad, some chanted "not Gaza, not Lebanon, my life for Iran", a reference to what protesters say is the administration's focus on foreign rather than domestic issues.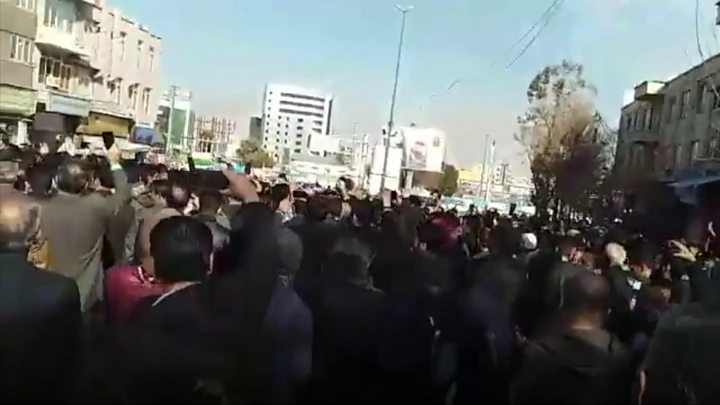 First Vice-President Eshaq Jahangiri has suggested that government opponents within Iran were behind the initial protests, state broadcaster IRIB reports.
He said: "Some incidents in the country these days are on the pretext of economic problems, but it seems there is something else behind them. They think by doing this they harm the government, but it will be others who ride the wave."
Iran is a key provider of military support to the government of Bashar al-Assad in Syria. It is also accused of providing arms to Houthi rebels fighting a Saudi-led coalition in Yemen, which it denies, and is an ally of Lebanon's powerful Shia movement Hezbollah.
The US State Department has urged all nations "to publicly support the Iranian people and their demands for basic rights and an end to corruption".
[contf] [contfnew]
[contfnewc] [contfnewc]
The post Iran protests: Reports of violence on third day of demonstrations appeared first on News Wire Now.