Turkish President Recep Tayyip Erdogan said Thursday he considers leaders of Germany and the Netherlands "old friends," despite previously accusing them of employing "Nazi practices" against Turkish citizens and his government.
Speaking with journalists aboard a flight back from a four-day tour of Africa, Turkey's leader said Ankara desires "good relations with the EU and EU countries." Erdogan, who has thrown quite a lot of verbal abuse at European nations this year, made a sudden U-turn, saying that "we don't have a problem with Germany, the Netherlands or Belgium. It's exactly the opposite, the leaders of those countries are old friends of mine. They did some wrong things to me, but that's a different matter."
Read more
Erdogan's verbal feud with Europe began back in March, when Germany and the Netherlands prevented Turkish officials from holding rallies for expatriate Turks in support of a referendum that granted Erdogan sweeping new presidential powers.
After the Dutch refused Turkish Foreign Minister Mevlut Cavusoglu entry into their country, Erdogan denounced what he described as "Nazi remnants" and "fascists" in the Netherlands.
After local German governments cancelled pro-Erdogan rallies in their cities to drum up support for the referendum, Erdogan said some European leaders "would revive gas chambers," specifically lashing out at German Chancellor Angela Merkel.
"When we call them Nazis, they [Europe] get uncomfortable. They rally together in solidarity. Especially Merkel. She backs [the Netherlands], too. You too are practicing Nazi practices. On whom? On my Turkish brothers and sisters in Germany," the Turkish leader said.
Then in September, Erdogan tore into Merkel and her reservations about Turkey's bid to join the EU.
"What happened is Nazism," said Erdogan, referring to criticisms of Turkey made by the German chancellor during an election debate with her political rival, Martin Schulz.
Dutch Prime Minister Mark Rutte described Erdogan's incendiary comments as "way out of line," while Merkel and her government said Ankara's Nazi comparisons were offensive and unacceptable.
Read more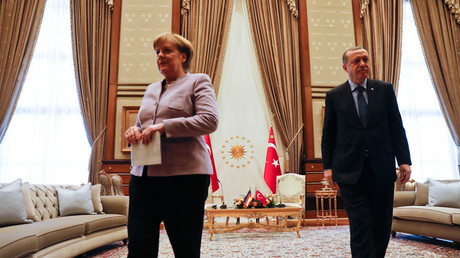 Erdogan's recent change in tone comes days after Germany and the Netherlands voted in favor of a UN General Assembly resolution declaring US recognition of Jerusalem as Israel's capital "null and void." Turkey has played a leading role in opposing the Jerusalem move, with Erdogan convening an emergency summit of the Organization of Islamic Cooperation (OIC) in Istanbul shortly after Trump's announcement.
"On the issue of Jerusalem, I wanted support from them; they are on the same page as we are," Erdogan said. He added that he had called German President Frank-Walter Steinmeier recently to personally thank him.
However, on the issue of Turkey's EU membership, Erdogan and his "old friends" still seem to be at odds. In November, the EU announced massive cuts to funds linked to Ankara's membership bid.
"I can't imagine Turkey or Ukraine becoming EU members in the next few years," German Foreign Minister Sigmar Gabriel said in an interview on December 26.
[contf] [contfnew]
[contfnewc] [contfnewc]
The post 'Old friends' or fascists? Erdogan changes his tune on European Union appeared first on News Wire Now.