Stranded air passengers have spoken of their frustration after they were left with "nowhere to go" as snow and ice sparked travel disruption across the UK.
Dozens of cancellations of Ryanair and Easyjet flights at Stansted Airport left 300 people waiting to rebook, while others reported being stuck on planes for hours and having trouble getting their luggage back.
Lana Briggs, who had flown into Stansted from Dublin, told Sky News her aircraft was held on the runway for an hour and she was not told when her luggage would be unloaded.
She said: "People are talking about it turning into a riot if we don't get more information. I'm sure it's not going to happen but it does feel pretty devastating at the moment. It's definitely tense.
"Mums and babies are on the floor.
"There are families kipping on suitcase carriers and even on some of the baggage belts that aren't working at the moment.
"All the local hotels are booked up."
Maria Fotiadou, whose Ryanair trip to Greece was cancelled, said she had been told the next available flight was on 1 January.
"We don't know if we're going to be able to get a room in a hotel for free," she said.
"Basically, nobody told us anything."
Christy O'Leary said he had been left with "nowhere to go" after his Ryanair flight to Stockholm was cancelled.
"Unfortunately the managing director is actually a long-distance cousin of mine – Michael O'Leary. I'm ashamed of him," he said.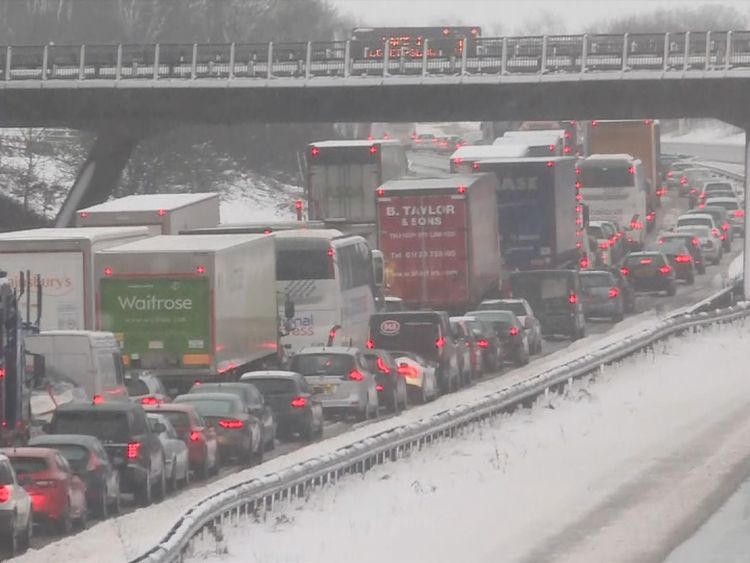 Cold Feet star Fay Ripley was also caught up in the disruption, saying she spent 10 hours on a runway ahead of her flight to Copenhagen.
She tweeted: "#shameonyou #Ryanair terrible treatment."
Ryanair said a "small number" of flights had been cancelled due to "snow-related runway closures" at airports including Liverpool, Luton and Stansted.
"We sincerely apologise to all customers affected by these weather cancellations and disruptions, which are entirely beyond our control," a spokesman for the airline said.
Some 27 inbound and 27 outbound flights were cancelled at Stansted, while around 50 flights were cancelled at Luton.
Freezing temperatures are expected to cause more travel disruption across the UK and the Met Office has issued severe weather warnings for ice for large parts of England, Scotland, Wales and Northern Ireland.
Road users have also been warned of treacherous conditions on untreated surfaces.
Met Office forecaster Helen Roberts said: "Roads and pavements will be slippery so if you are walking it could be treacherous, similarly it will be treacherous on the roads that have not been treated or were treated but showers have washed salt away."
The RAC said it saw a 15-20% spike in call-outs on Wednesday compared with the same time last year.
An AA spokesman said it had dealt with 8,000 breakdowns by lunchtime, which was "significantly more than a normal Wednesday in winter".
The M1 was closed for several hours on Wednesday morning following an accident in treacherous conditions.
More from Weather
Scottish and Southern Electricity Networks said power had been restored to 19,000 homes following snow and high winds, with about 200 still cut off.
The latest cold snap comes around a fortnight after hundreds of schools were closed, homes were left without power, and travellers were stranded or forced to stay indoors when a deep freeze gripped the UK.
[contf]
[contfnew]

[contfnewc]
[contfnewc]
The post Stranded air passengers 'sleep on baggage belts' appeared first on News Wire Now.