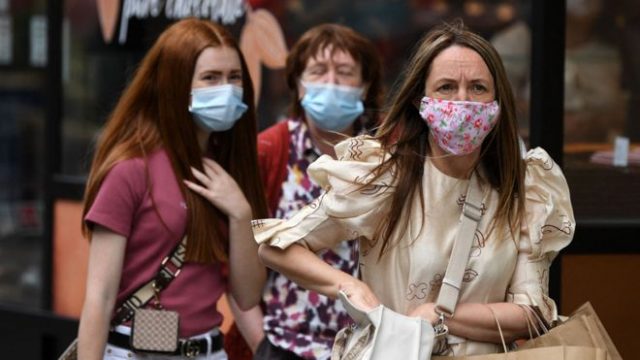 bbc– Ministers are considering exempting fully vaccinated NHS staff in England from having to self-isolate if they are traced as a Covid contact.
Health bosses have been urging the government to change the rules amid fears of staff shortages.
Sources said no decision had been taken and ministers wanted to see evidence the move would be safe.
If it goes ahead, self-isolation would be replaced with daily tests from 19 July, when wider curbs are eased.
The idea echoes a similar policy that would apply to all fully vaccinated people and children in England from 16 August.
It comes as medical leaders warn the Covid situation in the UK will get worse before it gets better with the NHS "under unprecedented pressure".
How many people are deleting the Covid app?
Should I still wear a mask after 19 July?
I'm fully jabbed, so do I need to self-isolate?
Saffron Cordery, deputy chief executive at NHS Providers which represents health trusts, said double-jabbed health service staff "should be able to carry on working even if they are pinged" by the NHS Covid-19 app.
She said: "The government should bring that in as soon as possible. I can't see any reason to delay. NHS trusts are struggling with the number of staff having to isolate – anecdotally we're seeing significant numbers off [work]."
"We've picked up on the fact some staff are deleting the app, but it's not happening on a big, widespread scale at this point."
Health and social care workers were among the first people in the UK to be eligible for a coronavirus vaccine when it became available in December 2020.
Of the estimated 1.3m NHS trust health care workers in England, around 1.1m have received two vaccine doses, according to data from NHS England.
Prof Helen Stokes-Lampard, chairwoman of the Academy of Medical Royal Colleges, told BBC Radio 4's Today programme that she was delighted the evidence for changing the policy for fully vaccinated health workers was being reviewed, adding that it "sounds like a sensible next step".
And Dr David Wrigley, from the British Medical Association, said NHS staff who have had both jabs "should be able to work if it is deemed safe so to do" – as long as they have the appropriate personal protective equipment and their workplace "adheres to the most stringent of infection controls".
Surge in alerts
Latest figures showed the number of isolation alerts from the app increased by more than 60% compared with the previous week.
More than 360,000 alerts were sent in England and Wales between 24 June and 30 June, as infections rose across the UK.
Asked if NHS staff could be exempted from isolation orders, a No 10 spokesman told the Financial Times, which first reported the story, it was "something we're looking at ahead of step four" of England's roadmap out of lockdown.
One official told the newspaper it was increasingly recognised that a "pragmatic" solution was needed to protect the health service.
It followed confirmation that the NHS Covid-19 app's developers are now changing its settings so that it becomes less sensitive, after concerns that people were being alerted to self-isolate after only fleeting contact with a positive case.
At the moment, devices at a distance of 2m or less, for a minimum of 15 minutes during a 24 hour period, are registered as a close contact.
A source close to the developers said this measure would change and that "things are moving fast", the BBC's technology correspondent Rory Cellan-Jones reported.
Businesses and NHS trusts have warned MPs the knock-on effect for the economy and workplaces could be huge, if current rules did not adapt.
The Office for National Statistics (ONS) said an estimated 400,000 people in the UK are thought to have been positive in the week to 3 July.
On Saturday, the UK recorded 32,367 new cases and 34 deaths within 28 days of a positive test.
It is the fourth day in a row case numbers have been above 30,000, while Friday saw the highest daily figure since 22 January.
Around two-thirds of adults have now been double jabbed against the virus, and experts say this is helping prevent very big rises in Covid hospitalisations, although admissions are increasing.