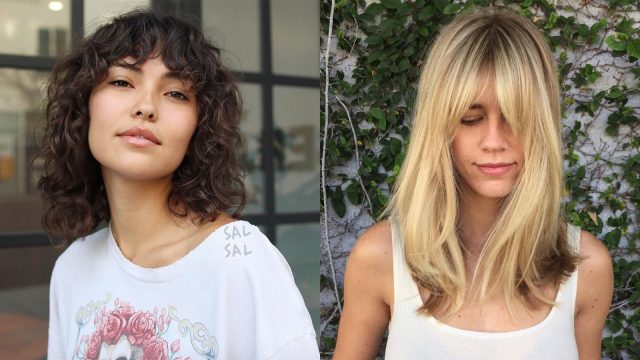 rte– If you've been on TikTok at all in the last couple of months, you've probably heard some version of that rallying call to arms. Long, feathery fringes that hit below your cheekbone have become the go-to cool girl hair style, and even we're a little tempted…
The romantic and effortlessly glam style has gone viral on TikTok and Instagram, but it has long been a favourite of Scandinavian fashion influencers. Everyone from Jennifer Lopez to Camilla Cabello have rocked the look and in a year defined by a pandemic, it's no doubt one of the lowest maintenance hair styles we've come across.
If you've been flirting with the idea of a flirty curtain bang, look no further. Here, Ciarán Purcell – head of retail experience at Peter Mark – fills us in on this must-have look.
"Bangs and fringes have really come back in the last 12 months or so," he says. "It started off when people were being more dramatic with say, a full fringe. Then that micro fringe came out maybe nine months ago where people were going a lot shorter with their fringe."
"So naturally, as that grows out, and what's really nice is to add some shape and to soften the corners. So, you end up with almost like a sweep through the front that we now call a curtain bang."
The style goes all the way back to the 60s, when iconic French actress, singer and trendsetter Brigitte Bardot rocked a long wispy fringe with her tousled beehives. Goldie Hawn has worked the style for decades, her feathery bangs and sultry bed head always on trend.
But the style has boomed no doubt in part because of the pandemic. When salons shut around the world, people had no choice but to grow out their fringe, but they're also extremely easy to glam up – especially on those days when washing your hair for the Zoom meeting is just an ask too far.
"What we're doing at the moment is we're sitting in front of the camera, our iPhones, we're doing Instagram Lives, we're doing Zoom calls. And all we're really looking at is the very front, so people have put a shift onto the fringe because that's what's really going to accentuate the shape of your face or the colour.
"You can tie your hair up in a messy bun but blow dry the fringe. It looks like you have a whole new style going on," Ciarán says.
And that's not the only plus. "It suits quite a lot of people because it's not too blunt or too square. It softens out facial features and when styled the right way it can even open up the face," he adds.
Don't be fooled into thinking this is a style for millennials and younger, though, as curtain bangs are great for more mature faces as they can hide wrinkles and grey hair regrowth.
So you've made the jump and gotten curtain bangs. How do you style them?
First of all, ditch the hair straightener. "The word that's really important when it comes to fringes, especially for a curly fringe, or curtain bangs, it's the idea of movement. You don't want this stuck to your to your forehead where it's like a full fringe, blow dried straight down."
"I wouldn't use the hair straightener with a curtain bang because what that's going to do is flatten it so much that it looks skinny. You want the hair at the front to look thicker and like it has texture. So hair dryer and brush hundred percent the way go."
Using a medium-sized barrel brush and a good hairdryer, place the brush "under your fringe and blow dry it up or out, or not flat down to create movement, some lift and body". Adding some dry shampoo or hairspray can give the fringe some texture.
TikTok tutorials include sweeping the bangs back off your face and teasing them into a soft swoop either side of your cheekbones.
Or for added volume, use rollers. "When the hair is still hot, put two rollers angled slightly off their faces if they have a middle parting, one on each side sites, to create a bit of volume and a bit of a bend," Ciarán says.