South Wales has suffered the worst flooding in more than 20 years as Storm Callum continues to batter Britain.
A man died after getting into trouble in Penarth Marina in the Vale of Glamorgan late on Friday night as the storm hit.
But a spokesman for Penarth Coastguard told Sky News that the 32-year-old's death was not a result of the weather.
Police said the 32-year-old man and a woman, 35, were pulled from the marina by the coastguard and fire service on Friday night.
They were both taken to the University Hospital of Wales in Cardiff but the man, from Penarth, died a short time later.
It comes as the west of Britain has been heaviest hit by the rains, with parts of South Wales worst affected as rivers burst their banks and homes were left without power.
There are currently 28 flood warnings in place across South Wales with a further 39 flood alerts as heavy rain is expected to continue.
Operations Manager for Natural Resources Wales, Huwel Manley, told Sky News: "This is amongst the most significant flooding in south west Wales for many years.
"We have seen very high levels of rainfall and, at times today, we had over 40 flood warnings in place."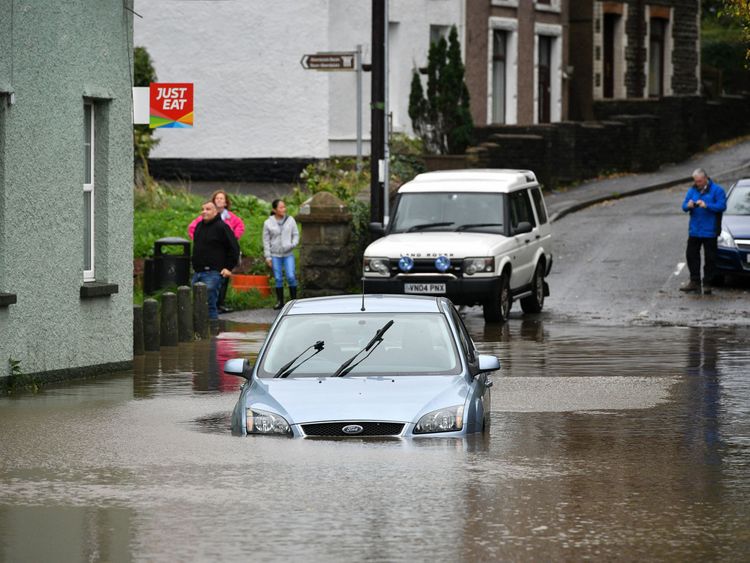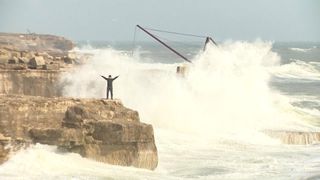 "The most badly affected areas are around Carmarthenshire and Ceredigion in West Wales, although we have seen flooding across many communities, mostly flood plains and farm land, but unfortunately also some properties."
The Met Office has issued a yellow warning for all of Wales until 11.59pm on Saturday night.
People have been urged to stay alert as downpours mean river levels are continuing to rise.
Powys has had the most rain of any part of Wales in the last 48 hours, seeing 20cm. The October average for the area is around 14.6cm.
One of the areas badly affected has been the village of Aberdulais in Neath Port Talbot where residents were ordered to evacuate their homes due to rising river levels amid reports of the worst floods there for 20 years.
Around 100 sheep were swept away in floodwater at Pontargothi, in west Wales. Police appealed to anyone who finds "any sheep washed up anywhere" to call them.
Meanwhile, in the town of Crickhowell in the Brecon Beacons national park, where the River Usk burst its banks, some properties were also flooded, with up to 4ft of water.
Pub landlord Howard Baker told Sky News: "The water rose very quickly. The emergency services have been pumping it out.
"The bar area, restaurant area and kitchen is all gone. At its worst, we had 3ft-4ft of water."
Simon Prince of South Powys Fire and Rescue told Sky News that roads and bridges have been closed and that such flooding has not been seen in the area for up to 12 years.
"That's the sort of extremes we are dealing with," he said.
A few miles away near Abergavenny, meadows are swamped with water.
Liz Sullivan, 72, who was at Llanfoist Bridge, said: "It's just like looking at the sea – I've never seen the floodwaters that high. You can only just see the tops of the picnic tables in the pub beer gardens."
The Brecon Beacons village of Libanus has already recorded 18.2cm of rain in just 48 hours – way above the region's monthly total of 16.9cm.
Dyfed-Powys police said some roads have been closed due to a substantial amount of standing water.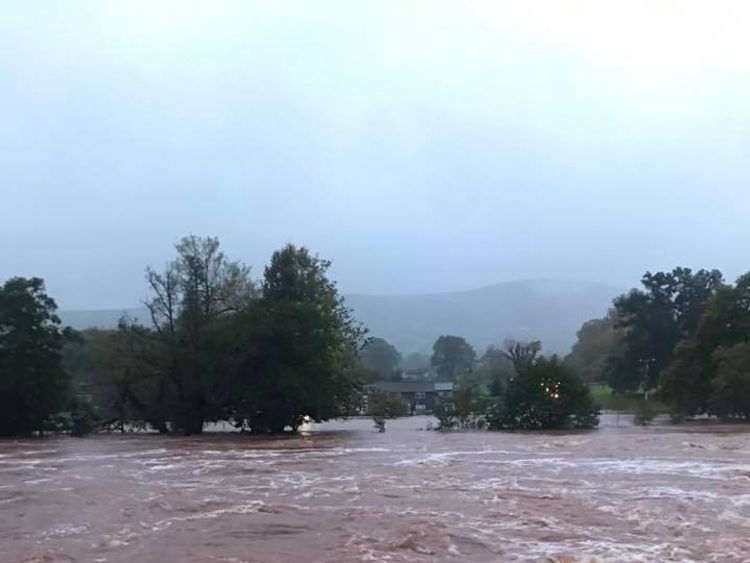 Winds of 77mph were recorded in North Wales and there is widespread travel disruption on major roads and rail networks.
And in Cardiff, some of the walkways of Cardiff Bay have flooded.
Some parts of southern and eastern Britain escaped completely with dry conditions and temperatures in the mid-20s.
Donna Nook in Lincolnshire reached 26.5C, making it the warmest October day in seven years, the Met Office said.
There have also been flood warnings for Herefordshire and Cumbria as well as two in Scotland.
Rail services were plagued by delays, with severe weather affecting services between Preston and Scotland, across the whole of Wales, and in southwest England.
There is also a yellow warning in place for more heavy rain in large areas of western Britain, covering much of the rest of Wales, as well as parts of Scotland and the North West and South West.
On Saturday, torrential rain and winds of more than 70mph buffeted the Republic of Ireland, Northern Ireland and the west coast of Britain.
Thousands of households were left without power and dozens of flights were grounded.
A train in Penrhiwceiber in Wales's Cynon Valley was stranded as water flooded the tracks.
More from Wales
For Sunday it will be wet for much of England and Wales, with sunshine and just a few showers elsewhere.
Monday looks fine for most, but another band of rain is set to push east through Tuesday and Wednesday.
[contfnewc] [contfnewc]